Characters
Latest Chapter
Spoiler Alert: Read at your own risk!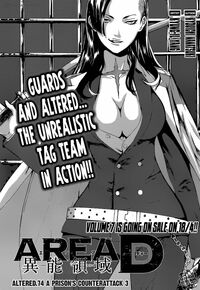 Altered.74 : A Prison's Counterattack 3
Bingam Kakuta being hurt by the flames that where created by the unknown Ubermench's power, fights along side Jin Kazaragi against an unknown Ubermench, code name Bibliophile. After Bingam manages to get Jin out of the way and away from the Bibliophile, Jin is attacked by a dog which seems to sprout from a book. This shows us further insight as to the Bibliophile's abilities, that rather than solely the ability to cause fire he can create anything after he has written it out on one of his special sticky notes. After a short battle between Jin and The Bibliophile Bingam comes to Jin's aid utilizing porn magazines to distract the Bibliophile.
Affiliates
Welcome
Welcome to Area D - Inou Ryouiki Wiki, a wiki dedicated to everything about the manga series Area D, or Area D - Inou Ryouiki, that anyone can edit. Please help us by creating or editing any of our articles! We currently have 4,252 edits to 256 articles and 444 images on this wiki.

Navigation
Featured Picture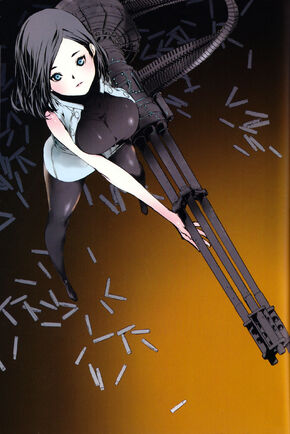 Wiki Poll
Area D Websites
Notice
Area D - Inou Ryouiki Wiki is not accepting .jpg format images, so please only upload high quality .png images. Any .jpg images not already uploaded, will be deleted. Thank you!!