Jin Kazaragi

Biographical Information
Kanji:
カザラギ・ジン
Rōmaji:
Kazaragi Jin
Alias:
S Rank Prisoner
Physical Description
Gender:
Male
Relationships
Family:

Rei Kazaragi (brother)

Allies:
Enemies:
Status
Power:
Ability Mimicry
Occupation:
Prisoner
Media
Manga Debut:
Altered.01
Image Gallery
Jin Kazaragi (カザラギ・ジン, Kazaragi Jin), mostly commonly known as, S Rank Prisoner (Sランクの囚人, S Ranku no Shuujin), is a S Rank Prisoner of Area D. He came to Area D on his own accord, as he wishes to find his brother, Rei Kazaragi.
Jin is a tall and muscular man with long white-blond hair and brown eyes. He is usually seen in a pair of dark colored pants and vest with a white belt and plain sandals. When he was younger his hair looked to be a much darker color. He appears to be in his twenties.
After Chapter 36 Enki cuts JIn's hair so it is now a shorter cut that, although it isn't considered short, doesn't surpas the length of his previous hair cut.
Jin believes that all of the Altered are humans with human emotions and hearts, and that they should be treated as such.
Jin bears a huge amount of guilt over his part in the Lotus Flower Incident, which took place 2 years before the start of the series. It is still unsure if Jin is the real culprit of the incident or if he is covering for someone else.
Jin is a rather quiet and kind person but will get extremely pissed when provoked (this usually takes something like threatening a child or saying something bad about his brother).
Jin seems to like children, he has protected Mika several times as well as the young girl who could manipulate the space in the room she was in.
Jin first appears in the Prisoner Ship Arc, cell block 3, under the name "S rank prisoner", he resided within a special container within a special section of the ship until Satoru Ida, during his conflict with Tatara, was lead by Rio to his, Jin's, container. After Jin is convinced that Satoru is "human" he states his willingness to assist him in the fight against Tatara, at which point Satoru opens Jin's container with the use of his Watchmaker ability.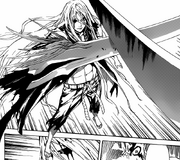 Ability Mimicry (能力の擬態, Nouryoku no Gitai) is Jin's Altered ability. It enables him to perfectly copy any abilities of any Altered / Power-Users he comes into physical contact with. His ability only allows him to copy one Altered ability at any one time and any previous ability he's obtained will be overwritten when he comes into contact with another Altered. There is no known limit on how long he can maintain an imitated ability nor how many times he can copy any one ability. However, he is incapable of copying a dead persons ability.
Jin has an almost parental relationship with Mika. Due to Mika's young age she is extremely suitable and thus became extremely depressed when convinced that she was a monster. However because of Jin's kindness she managed to show her that she wasn't a monster and ever since then she has followed him without fault.
Ever since Jin met Ida he has shown great dedication towards him and the rest of his team. When Jin first met Satoru he was secluded and refused to asist him due to his inhumanity. However as soon as he realized that Satoru was indeed "human" they formed a close bond similar to that of brothers.
Community content is available under
CC-BY-SA
unless otherwise noted.