Mejiro

Biographical Information
Kanji:
目白
Physical Description
Relationships
Allies:
Enemies:
Status
Power:
Unnamed
Occupation:
Rookie Vigilante, Prisoner
Affiliation:
Area D
Media
Manga Debut:
Altered.19

Mejiro (目白, Mejiro) is a prisoner in Area D, and one of Isobe's subordinates.
Appearance
Edit
Personality
Edit
Reward of Courage Arc
Edit
Abilities
Edit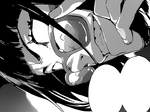 Mejiro's unnamed ability turns her eye pupils white and allows her to see through solid objects, for example, concrete and iron walls. This also grants her the ability to perceive weak signals sent through one's body which therefore allows her to track down people.
Relationships
Edit
Her name means white eye, a reference to her eyes with white pupils.