Soga

Biographical Information
Kanji:
ソガ
Rōmaji:
Soga
Alias:
Shady Doctor
Soga-sensei
Physical Description
Gender:
Male
Relationships
Family:

Mariko (daughter)

Allies:
Enemies:
Status
Power:
Operation Start
Occupation:
Doctor
Media
Manga Debut:
Altered.12
Image Gallery

Soga (ソガ, Soga) is an altered, a resident of Area D as well as a shady doctor of the island prison.
He appears to be middle-aged (late 30s to early 50s). He has messy hair that looks like a perm. He has a thin beard. He is always seen wearing a lab coat and collar shirt and black tie underneath.v
He is calm and collected. It is shown that he is incredibly intelligent. Like Jin, he is also quiet fond of kids and hates see them get hurt. He will not treat patients who have hurt small children.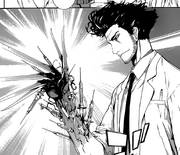 Operation Start (動作開始, Dousa Kaishi) Doctor Soga's ability allows him to transform his arms and fingers into medical equipment, including syringes, surgical knives, tubes and beakers, etc. With it, he can provide medical care to others by inserting his hand into the patient's body. He is, also, able to forcibly revert Altered with Transformation Type abilities; the extent and maximum potential of his power is unknown. He activates his ability with the command "Start!"
Mariko: She is his superpowered nurse who helps him out. He often worries about since she can't feel pain or other emotions. It's later revealed that she is his daughter.
Community content is available under
CC-BY-SA
unless otherwise noted.